KL Deemed to be University Students Excel in Sports, Bagging Medals at International Championships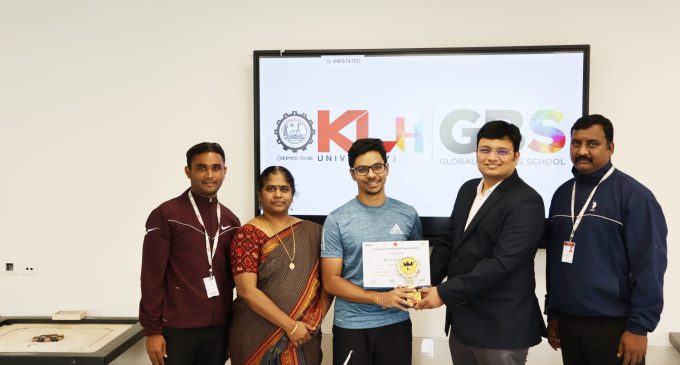 New Delhi, August 2023:KL Deemed to be University takes immense pride in announcing the remarkable achievements of its students in various international sports championships, making the nation proud with their exceptional performances. The university's commitment to nurturing and supporting talented students in their sports endeavours has resulted in an impressive display of skill and determination on the global stage. The recent achievements of its talented students in various international sports championships are a testament to the dedication and hard work of the students and the commitment of the University to encourage and empowering its sports stars.
KL Deemed to be University takes immense pride in the extraordinary achievements of its students in various international sports championships, bringing glory to the nation with their exceptional performances. Notably, Uma Mahesh Maddineni, a third-year B. Tech (CSIT) student, secured the prestigious Bronze Medal in the 10m Air Rifle Men Junior category at the "ISSF World Championship Juniors 2023" held in South Korea, where 90 shooters from India participated. Surya Akash Pokala, a talented 3rd year B. Tech student specializing in Electronics and Communication Engineering, displayed remarkable skills and determination, earning the Silver Medal at the International Soft Tennis Championship held in Pattaya, Thailand.
Equally impressive is Shaik Sadiya Almas, presently pursuing a BA (IAS) from KL Deemed to be University, who has proven her prowess in the Junior World Power lifting Championship in Turkey. Sadiya's outstanding performance garnered her One Gold, One Bronze, and the Overall Silver in the championship, making her a true source of pride for the university and the country. She also won 4 Gold medals at Commonwealth Junior Power lifting Championship in New Zealand 2022.
In addition to these stellar achievements, the university celebrates the remarkable success of M. Theertha Shashank and Bavanaka Vrishin, both students of KLH Global Business School. M. Theertha Shashank, an esteemed tennis player with numerous prestigious awards to his name, is pursuing an MBA in Fintech and recently won a substantial cash prize in the Season 4 Selection Day Tournament of TPL (Tennis Premier League). With his highest National Junior Ranking at Number 3 in India, he aspires to become a Grand Slam Champion. Bavanaka Vrishin, a promising table tennis player and national-level athlete, displayed exceptional talent by clinching team gold and a bronze in the men's singles at the Samjhana Cup International Table Tennis tournament in Nepal.
Dr G. P. SaradhiVarma, Vice-Chancellor, KL Deemed to be University said, "At KL Deemed to be University, we fully support the best talents of our students. We provide excellent guidance and aid our students to give their best in their respective sports events. We aim to cultivate a vibrant sports culture on the campus, and we aspire that our students should proudly represent India in sports competitions and raise the Indian flag high by clinching more medals for the nation. Our ultimate goal is to build the best sports ecosystem within the country.
The University has a renowned history of achieving excellence in sports. It fosters a student-sports environment that enables students to balance their academic and athletic pursuits. The University offers top-notch infrastructure, dedicated coaches for each sport, academic flexibility for outstanding athletes, sports scholarships, special awards, and financial support for meritorious sports persons during national and international events.
The university fosters a student-sports environment to achieve excellence in both academics and athletics. Dr. Ch. Hanumantha Rao, Dean, Student Affairs and Dr. K Hari Kishore, Associate Dean (Sports), KL Deemed to be University informed that the university grants a 50% fee waiver for state and national level players, extending up to 100% fee waiver support to exceptional performing sports students and aiding them in their educational journey.