Inauguration of APSIT Skills Center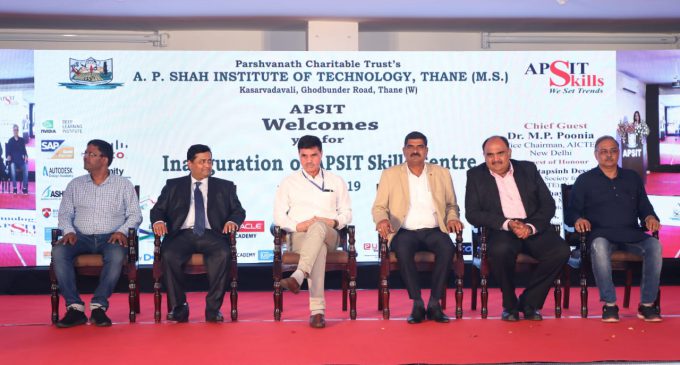 APSIT Skills an initiative of A. P. Shah Institute of Technology, Thane was inaugurated on Monday, 8th July 2019 by the auspicious hands of Dr. M. P. Poonia, Vice Chairman of All India Council for technical Education (AICTE), Dr. Pratapsinh Desai, President, Indian Society for Technical education (ISTE), Shri Sandeep Acharya, Deputy Editor of Loksatta, Dr. C.S. Verma Regional Officer, AICTE WRO, Shri. Chirag Shah, Chairman, Parshvanath Charitable Trust and Dr. Uttam Kolekar, Principal, APSIT graced the function.
Dr. Sameer Nanivadekar co-ordinator, narrated the motive behind the conception of skill centre stating the need for developing skills of budding engineers and reskilling of the employed technocrats in the emerging field of Artificial Intelligence, Blockchain, Big Data Analytics, Cloud computing, Cyber security, Internet of things, Robotic Process Automation, Augmented and Virtual Reality as suggested by NASSCOM.
He further stated that it is a first of its kind effort to provide training and international certification on futuristic technologies under one roof to cater the needs of students and technocrats working in the region of Thane, Navi Mumbai and Mumbai.
Dr. M. P. Poonia stated that it is a need of the hour and praised the initiative of APSIT of collaboration with industry and proposed that AICTE will take lead to make such facilities available to other institutes and described various AICTE schemes that address to immediate concerns of technical education.
Dr. Pratapsinh Desai, President, Indian Society for Technical Education (ISTE) stated that APSIT skill is the only centre in India having such a wide variety of courses under one roof.
Demonstration of 'Indro', the tallest humanoid robot of India was a key attraction of the function.
The function was attended by various industry representatives from NVIDIA, Tesla Business, Dassult System, Bently Institute India, Autodesk, Ansys software, Unity 3D, Blockchain Council, MSC software corporation ,Ashnik Singapore,Siemens Industry Software, ICT academy, Primus Techsystem and Oracle Academy