DPS-Bopal's inter-school event Srijan celebrates creativity, innovation, and arts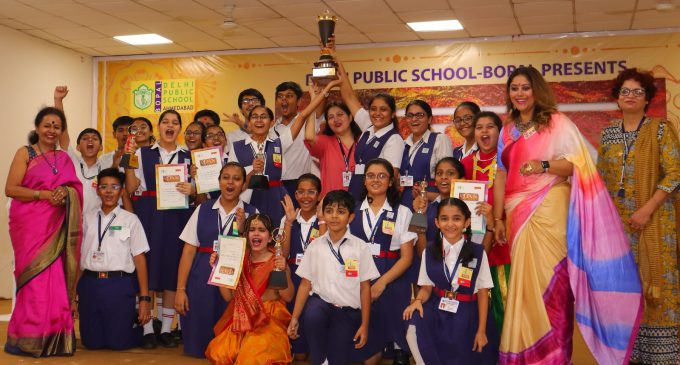 More than 800 students from 30 schools in and around Ahmedabad participated in the day-long exciting event.
Ahmedabad: Delhi Public School- Bopal hosted the annual inter-school techno-art-literary-dance fiesta, Srijan 2023, on Saturday, showcasing a convergence of creativity, innovation, collaboration, skill and talent among the students. The event aimed to instill confidence in students in their innate qualities and promote the belief that these qualities can lead to great accomplishments.
Srijan 2023 witnessed a multitude of captivating events encompassing diverse domains such as technology, music, drama, dance, and fine arts. With a lineup of competitions like Ek Patriya Abhinay, Nrityanjali, Vigyanam, DPS Ka Baazigar, Sloka Gaan Pratiyogita, Kalayatan, Comic Capers, Tableau, Udgarostav, Technovanza, and Beat the Grandmaster, the festival ignited the spirits of the young participants.
The event commenced with young musicians enthralling the audience with a motivational song. Inaugurating the event, which had 800 participants from 30 schools in and around Ahmedabad, Ms Vandna Joshi, Director, DPS-Bopal, emphasized the significance of creativity and innovation in addressing global challenges and driving progress.
Ms Sabina Sawhney, Principal, DPS-Bopal, exhorted the students to use the festival as a vibrant platform to explore and showcase their diverse talents.
Udgarostav showcased the oratory skills of aspiring poets as they narrated poetic tales, while Technovanza provided a platform for participants to test their coding skills and pursue excellence in the ever-evolving world of programming. Comic Capers added a fun element as children presented ideas through creative writing and cartoons. Tableau became a mesmerizing performance, blending creative skills with historical knowledge and cultural awareness.
Kalayatan was a compilation of various artistic events through which artists dazzled the judges with a vivid gamut of colours. The students left everyone awe-struck as they presented their talent immaculately and effortlessly.
An atmosphere of excitement and inspiration marked the culmination of Srijan 2023. Maharaja Agrasen Vidhyalaya emerged as the winner and was awarded the coveted rolling trophy, Srijanshree, based on their cumulative points in various competitions.
Thus, Srijan was a splendid fusion of fun, knowledge, excitement, and ecstasy that enlivened the campus. It celebrated the human spirit of innovation, creativity, and collaboration, reaffirming the belief that with the right passion and dedication, humanity can overcome any challenge and build a brighter future for all. The program culminated with the vote of thanks and a rendition of the national anthem.