Build A Successful Career In Event Management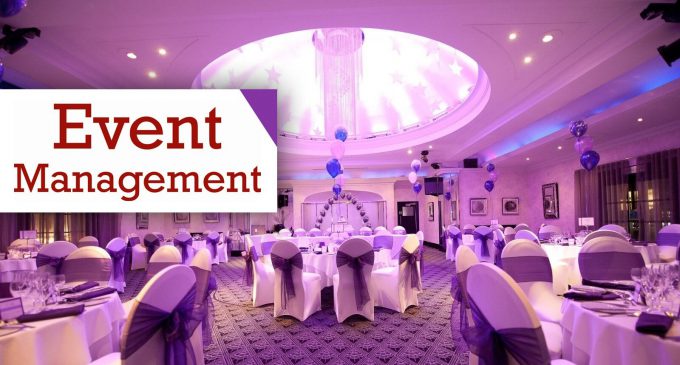 Events and occasions are an integral part of human life. We simply cannot bypass them as they touch almost all aspects of our social existence. We either organize events or take part in the show. Either ways we want occasions to go on as per our expectations and in doing so we often seek professional help.
Event management is a multifaceted activity. Major constituents of this profile include creativity, meticulous planning, relationship management, advertising and marketing and much more, all rolled into one seamlessly choreographed process.
Step-by-Step
The very basic qualification to get into the realm of event management is to be a graduate in any discipline. However, you must possess certain traits that would help you to go a long way in this industry.
Essential skills include:

Public Relations: to manage clients, their agents and a vast gamut of professionals you would meet in the line of your profession
Creativity: from the germ of the concept to manage an occasion to its final delivery
Marketing skills: to sell your idea to your clients in order to make their events memorable
Analytical ability: you must have the knack to solve all sorts of problems and even have the foresight to anticipate unforeseen issues
Organizational skills: to carefully plan for tasks for self and for the entire team
Networking skills: this industry thrives on the shoulders of personal networking and you must have the ability to utilize it and expand it in your favor
Management skills: ability to manage time, stress, subordinates, clients, budgeting, risks, situations and so on
Institutions that offer event management as a vocational study program are few and far between. Most of these institutes offer certificate and diploma courses. On the other hand, event management companies prefer candidates who have earned their qualification in allied fields such as a degree or a diploma in Public Relations, Tourism, Hospitality Management, Sales or Marketing.
Start As Early As Possible
A creative aptitude and the skill to manage things perfectly are the main ingredients of getting into the event management industry. These skills can easily be sharpened especially during the academic years.

You can start off in this direction by organizing school and college events such as skits, quiz contests, cultural meets, annual day functions or sports events. For this, you need to have the acumen to select an appropriate venue for the occasion, visualize the decor and the sequence of items as they would unfold in front of the spectators. Further, you must arrange for an assortment of equipment, technicians and artists who would make the occasion successful.
A rich experience during these years plays a crucial role when you select event management as your preferred profession later on in life.
Is It The Right Career?
Your basic task is to plan and present an event in a novel way and that too from scratch. For this, you must possess the quality to think out of the box. Apart from ample creative juices, you ought to have good planning, marketing, budgeting, negotiation, client management, communication and leadership skills.
Further, you must have immense patience and insight to see right into the smallest details of the entire event management process and always stay focused on your project goals. Good networking skills, client management, business analytics, time management, ability to take on challenges, problem solving skills and adjusting to rapidly changing situations are some other qualities essential role.

The mantra for success in this cutthroat business is to constantly improve upon your existing skills, stick to your career objectives, avoid complacency and always delight your client.
What would it Cost?
A Post-Graduate Diploma in Advertising, Media and Events (PGDAME) from the National Institute of Event Management (NIEM), Mumbai, costs around Rs.1,75,300 approximately, whereas the Post-Graduate Diploma in Event Management (PGDEM) costs up to Rs.79,000 and the fees for a Diploma in Event Management (DEM) is around Rs.59,500.
Job Prospect
There are plenty of jobs in this industry. In spite of the current global economic slowdown, the event management industry has continued to grow in leaps and bounds. There are plenty of events: weddings, birthday parties, talent hunt and reality shows, fashion and cultural shows, academic and sports meets, religious functions, corporate events, conferences and so on.

Talented youngsters who want to leave their mark in this industry have numerous avenues. You can join an event management company or a media house that specializes in event management activities. Once you have garnered ample experience you can either start working in the capacity of a freelancer or even set up your own events business.
Different roles, different names
An organization that is into event management business offers numerous positions to job seekers. The following are some of the departments in a typical event managing company:
Public Relations – managing a vast gamut of people ranging from clients, artists, stage performers, government officials, public and so on
Promotion and Marketing – for promoting the image of the organization and also for marketing the event to the public at large
Brand Development – a talent pool that is responsible for managing client requirements pertaining to brand restructuring
Designing – team of creative people who visualize and then prepare design layouts for the stage, costumes, accessories and so on
Administration – department that is responsible for back office and general administrative tasks
Production – team comprising of media professionals who manage the production and editing of audio, video and related media
Printing – department that takes care of printing all sorts of marketing collaterals and promotional items
Tips for getting Hired
Since you would be working in the service industry and meeting people all the time having good communication skills helps.
Although a graduation degree is enough to get into an event management firm but qualification in Hospitality Management, Tourism Management, Public Relations, Human Relationship Management, Marketing enhances your chances for getting hired.
Keep an up to date portfolio of all your creative and organizational activities and highlight your achievements during the selection process.
It is not mandatory but desirable to have a certificate or a diploma in event management from a reputed academy.