WHISTLING WOODS INTERNATIONAL APRIL 2023 ENTRANCE EXAM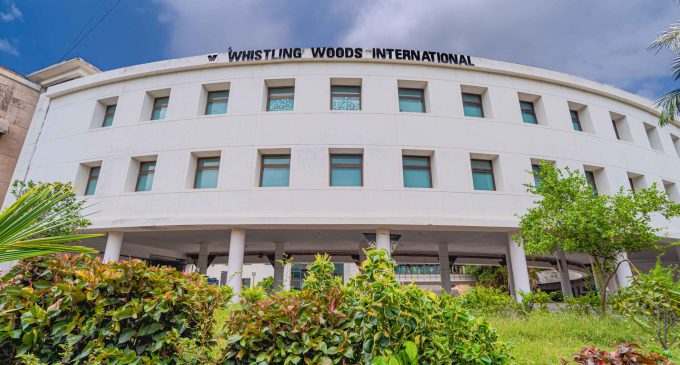 WHISTLING WOODS INTERNATIONAL APRIL 2023 ENTRANCE EXAM DATES ANNOUNCED; COMMENCES APRIL 19
WWI invites application from aspirants for Degree, Post-Graduate & Diploma programmes in the areas of Film, Communication & Creative Arts, offered under an agreement with Rajiv Gandhi National Institute of Youth Development (RGNIYD) ~
Mumbai, March 2023: Whistling Woods International (WWI) has announced the dates for its April round of entrance examinations for the 2023 intake. WWI is accepting applications from film, communication, and creative arts aspirants for its full-time degree, post-graduate and diploma programmesin Filmmaking, Acting, Animation & Game Design, Media & Communication, Fashion Design, Visual Communication Design, Music, Event Management and Sports &Esports Management. The registration process has commenced and the last date to register for the entrance exam is April 18, 2023. Candidates can apply online through the official site of the Institute at www.whistlingwoods.net. Following the registration, entrance exams are scheduled to be conducted online and offlinefromApril19-21, 2023. The programmes are offered under an agreement with Rajiv Gandhi National Institute of Youth Development (RGNIYD), an institute of national importance.
Awarded the Excellence in Creative & Performing Arts at the 6th FICCI Higher Education Excellence Awards, 2019, and rated among the 'Top Institutes of Influence', globally, by Forbes India,the institute has over 3500+ alumni successfully working in rewarding areas of the Media, Entertainment & Creative Arts industry.
Recently, the Gujarati film, Chhello Show (Last Film Show), a film created by the alumni of WWI School of Media & Communication, and School of Filmmaking, was selected asIndia's official entry to The Oscars 2022. In addition, several recent films and OTT releases likePathaan, Trial By Fire, Cirkus, Dhrishyam 2, PS-1 Brahmāstra: Part One – Shiva, among others have seen the involvement of WWI alumni in various capacities.
Aspirants who want to pursue a career in film, communication, and creative arts and learn from industry professionals can apply for the various programmes offered by undertaking the upcoming entrance examination.
For more details, please refer the below table:
Date
April 18th

2023

Last Date to Register for the April Round of Entrance Examinations
Entrance Exam
19th April 2023
B.Sc Filmmaking I MAFilmmaking | MA Screenwriting | DiplomaScreenwriting | B.Des Visual Communication Design
20th April 2023
B.Des Animation | B.Des Game Design | B.Des Fashion Design
21st April 2023
BBA Media & Communication | MBA Media & Entertainment I MBA Event Management & Experiential Marketing |MBA Sports &Esports ManagementI BA Music Production &Composition | I BA Acting | MA Acting