Shri Gauranga Das Prabhu presented Key Session at the Intermarket Surveillance Group (ISG) Fall Conference 2023 Hosted by NSE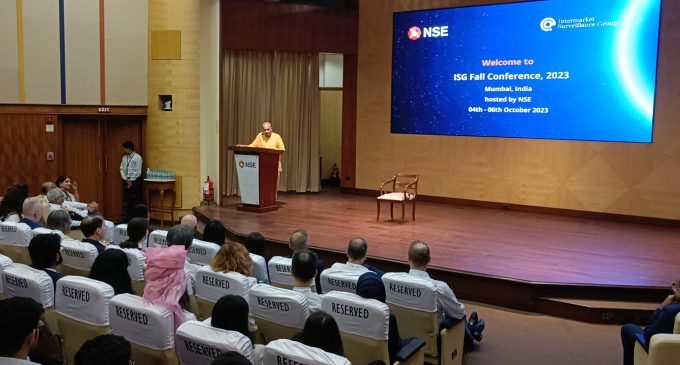 Mumbai, 5 October 2023 – Shri Gauranga Das Prabhu, the Director of ISKCON's Govardhan Ecovillage (GEV), a mindfulness expert, sustainability advocate, climate champion, and catalyst for social welfare, received a distinguished invitation to present a keynote session at the prestigious Intermarket Surveillance Group (ISG) Fall Conference 2023. The ISG is a prestigious international organization composed of regulatory authorities overseeing securities and futures markets worldwide, boasting a membership of 63 active members.
Hosted by the National Stock Exchange of India, this year's ISG Conference serves as a vital platform for knowledge sharing and the exchange of best practices among surveillance professionals within the Securities and Futures Exchanges field. This event is particularly momentous as it marks India's inaugural role as the host country.
Shri Gauranga Das Prabhu delivered an inspiring discourse at the Exchange premises, addressing an audience comprised of both international and Indian participants. He spoke on Four sutras of Mental Health consisting of Focus, Intention, Resilience and Empathy. He also mentioned that the difference between success and happiness is Success is to get what you like and Happiness is to like what you get and how the ancient Vedic wisdom helps us understand this. This unique opportunity allowed for the global stage to witness and appreciate India's rich culture and ethos.
Shri Ashish Chauhan, the MD and CEO of the National Stock Exchange, commented on Shri Gauranga Das Prabhu's speech at the conference, stating, "Shri Gauranga Das Prabhu's insightful discussion not only contributed to the personal growth of our workforce but also highlighted the diversity and expertise that India brings to the global financial community."
About Gauranga Das
Gauranga Das is a leadership and mindfulness coach based in Mumbai. A graduate of IIT Bombay, he found his calling to become a monk to best serve society. A member of ISKCON's Governing Body Commission, he is actively involved in enhancing leadership effectiveness and governance of temples and communities globally.Gauranga Das is director of ISKCON's Govardhan Ecovillage (GEV), founded by Radhanath Swami. The GEV, representing India, has won over thirty-six national and international awards, including the United Nations World Tourism Organization (UNWTO) Award in 2017 for its innovative model of 'Eco-Tourism as a Catalyst for Rural Development'.He is recently appointed as an advisor for sustainable development of the Ekatma Dham Project by the Honorable CM of Madhya Pradesh, Shri Shivraj Singh Chauhan.