Pi Desk – A Personalised Computer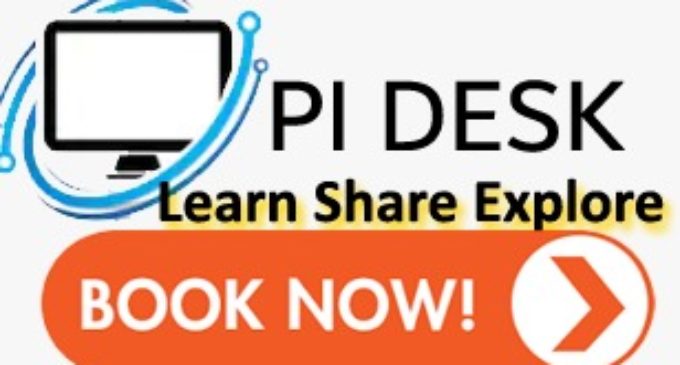 As a result of Corona Pandemic and the lockdown, Indian Education System has moved online. Many distance learning courses are coming up. Schools and colleges are taking their lectures online using Zoom, Google Classroom etc.
But are these efforts of Teachers and Educators reaching to all the the students? do all the children are getting access to the same? The answer is No.
In many schools only 50 percent of the students are attending the Zoom Sessions or classroom. Remaining 50 percent of the students are not able to access the lectures due to lack of infrastructure.
In India, even in Metroplitan city like Mumbai, Students and Parents are not having mediums like Computer, smart phone or internet access. In many cases 1 computer/smart phone is shared amongst 2 3 siblings.
Pi Code Club, a company based in Navi Mumbai has solution for this problem. The company has come up with its new product, Pi Desk – A personalised Computer Kit.
Pi Desk is a portable computer which will contain a Pi based computer, a keyboard, a mouse, an adaptor and HDMI cables for connection.
The Cost of Pi Desk is starting at just 5999/- Considering the middle income group and financial crises due to lockdown, Pi Code Club is also trying to provide the kits at EMI of Rs. 500 pm for students.
Anyone can purchase the kit and connect with their HDMI TV. Alternatively you can also order an HDMI screen with it. There is also an option to purchase web camera compatible with this Pi Desk.
For Primary students many softwares like childs play, tuxpaint, moral stories, rhyms are installed in it. Primary students can learn,play games, listen to stories, learn block coding and do lot of things using the kit
It also contains softwares like G comprise , Geogebra, vertual librery that can help secondary students to learn maths, science, history, geography etc.
It will emphasis on learning different coding languages for engineering and degree students.
The pi Desk will have the basic tools for surfing net, office tools, WiFi, Bluetooth and option to extend the pi desk as media server, do Do It Yourself projects and more.
Also pi code club provides extensive user guide and mobile application with tutorials and DIY.
It can be used for creating documents, ppts, surfing internet, attending video lectures, playing games, learning DIY projects, programming and many more.
for more details visit Pi Code Club website http://picodeclub.com/pi-story/