Apeejay School Of Management Organises Mini-Marathon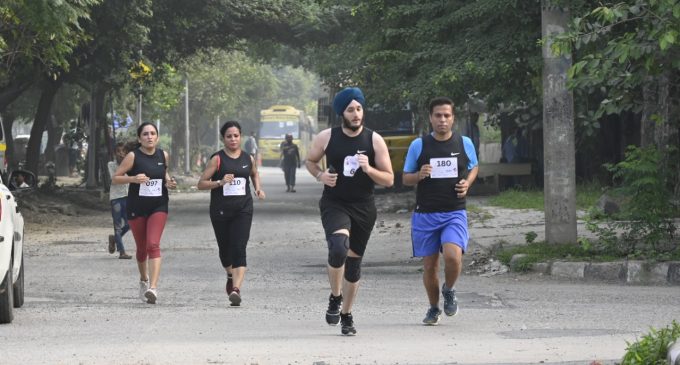 Apeejay School of Management organises Mini-Marathon
New Delhi, 08.10.2022:Recently, Apeejay School of Management (ASM), Dwarka, New Delhi, organised a Mini-Marathon 2022: Run for Sustainability. The aim was to inculcate and promote a healthy lifestyle among people as also the virtues of resilience, endurance and sportsmanship.The Chief Guest of the event was Dr. Rita Jairath, IFBB (International Federation of BodyBuilding and Fitness) Pro Figure Athlete and an International Judge.
The event witnessed anenthusiastic participation of more than 350 people. A distance of 6.5 km was covered in this run. People of varied age groups ranging from the youngest participant of 2.5 years to 75 years took part in this marathon. Moreover, looking at the participation rate of young runners, a sixth category was introduced for those below the age of 10.
The marathon was flagged off by Dr AlkaMunjal, Director at ASM, Mr. P.K. Bharadwaj, (Retd. IPS)  Ombudsman Delhi Electricity Regulatory Commission, Prof.Sajal Mukherjee, Director at Apeejay Institute of Mass Communication, Dr. R.P. Hooda, Professor Emeritus, Dr.AlokSaklani, Advisor ASM, Prof. Kamal Kishore, Dean at ASM.
At the end of the event, 33 runners were felicitated with gold, silver and bronze medals under the various categories. The medals were distributed by the Chief Guest, Dr. Rita Jairath and Dr AlkaMunjal.During the medal distribution ceremony, Dr Rita Jairath, the first Indian bodybuilder and member of the Olympic Selection Committee, shared an inspiring life story of how she overcame her hurdles to become an athlete.
Mini-Marathon 2022 turned out to be a great success as runners came together to enthusiastically participate and lead a more active life. All the participants pledged to achieve a healthy lifestyle.
About Apeejay School of Management:
In its endeavour to establish a truly international level Centre of Excellence in Management, Apeejay Education established the Apeejay School of Management (ASM) in 1993. ASM strives to develop competent and relevant manpower for the twenty first century needs of trade, business, and industry. The School supports the various program for enhancing the potential of individual students, enriching human values, upholding the Indian value system, all acting in union as a vehicle for growth at the national and international level, thereby making it a "student driven" institute of higher learning.
[SLGF id=6842]