NATIONAL EDU CONFERENCE ON NEP 2020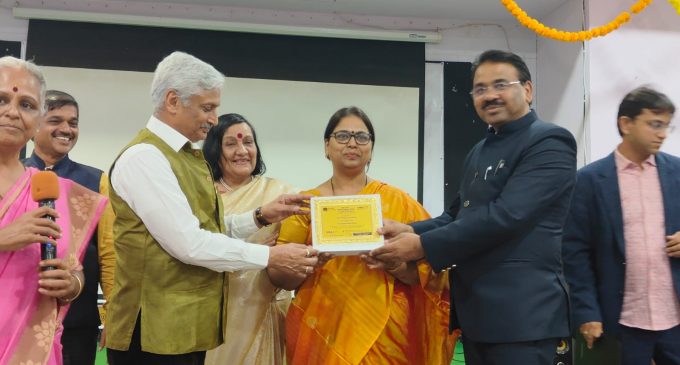 NATIONAL EDU CONFERENCE ON NEP 2020 AND SKILL EDUCATION IN SCHOOLS ORGANISED BY AKHIL MAHARASHTRA SAHODAYA
Since inception in 1962 with 309 affiliated schools, the Central Board of Secondary Education (CBSE) has grown into a global education superpower with over 26,000 schools catering to over 2.4 Crore students and their families in India and 26 countries across the globe.
Since 1987, CBSE advocated the establishment of regional voluntary association of schools as cooperative structures called the Sahodaya School Complexes. Member schools of each Sahodaya collaborate to develop synergies in human resource mobilisation, professional growth of teachers, value-oriented school climate, vocationalisation of education, school management and administration, and evaluation.
With NEP being rolled down, the schools across the country are trying to implement it and with the advent of  Industrial Revolution 4.0, Educational Leaders need to usher in Education 4.0. With this in mind, the theme of the conference is proposed to be  "Reinventing Skill Education for 2030 and Beyond".
The Akhil Maharashtra Sahodaya Mumbai along with CED Foundation Delhi  had organised a National Conference at Billabong High International School Thane  with an aim to stimulate school leaders with the required changes that should be made not only in the designing of curriculum and pedagogy as well as to equip them for the era of education 4.0. Around 150 Principals and School Leaders from Mumbai, Pune, Navi Mumbai, Thane and Nashik attended the same.
The inaugural session of the conference commenced with the address of Akhil Maharashtra Sahodaya Chairperson and GM Billabong High International School Thane Dr Shilpa Jejurkar who highlighted the roles and responsibilities of school principals and administrators in realizing the objectives of NEP 2020 and making schools future ready. She also discussed the Vision and Mission of Akhil Maharashtra Sahodaya in reaching the rural schools and educators and training them in achieving the objectives of NEP 2020. The Sahodaya will also strive to make Skill education available to such schools
The Chief guest Prof C B Sharma Ex Chairman NIOS Govt Of India threw light on various aspects of NEP 2020, Teacher Training and Skill education. He reiterated the fact that teachers are the torch bearers and they need to work hard in bringing up the future Indian citizens according to NEP 2020.
Prof Sunita Magre Dept of Education Maharashtra also addressed the gathering of Principal and enlightened the Principals on Experiential Learning.
Dr Reeta Sonawat Executive Director ECA Mumbai informed us about the Foundational Learning years and the NCF draft.
The Vote of Thanks was proposed by Dr Pratibha Mishra Principal Panbai International School Santacruz and also the Secretary Akhil Maharashtra Sahodaya.
[SLGF id=6984]